Beat, tricks and fun (new show 2021)
Spectacle
Forme Longue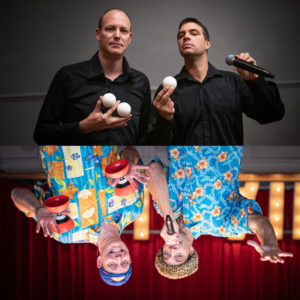 Juggling duo with diabolos, bouncing balls, human beatbox and loopstation.
With : Gaspard Herblot and Priam Pierret
Duration : 30 min.
"Beat, tricks and fun" tells the story of the creation of Diabolooping and Bounce on da Beat, the acts created by Gaspard and Priam. It's the birth of the characters John-Gaspard and John-Priam, the transition from a soberly intro to a sassy climax, with loads of nice surprises on the way. This amazing show mixes a groovy bouncing balls act and massive diabolo performance !
THIS SHOW IS CURRENTLY UNDER CREATION, TOUR STARTS IN SEPTEMBER 2021
With the support of :