Beats, tricks and fun (new show 2023)
Spectacle
Forme Longue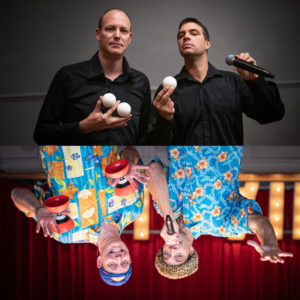 Juggling duo with diabolos, bouncing balls, human beatbox and loopstation.
With : Gaspard Herblot and Priam Pierret
Duration : 30-45 min.
Both driven by the pleasure and joy of sharing, passionate about the challenge and the virtuosity in our disciplines, we have found many affinities in our practices and our artistic approach. Our fields of expression (diabolo, beatbox, balls, body music) are very conducive to sharing explosive energy and offer multiple possibilities of combinations. The combination of our languages offers us since the beginning of our cooperation a space for fruitful, varied, concrete, precise, visual and musical research.
Virtuosos in juggling and beatboxing, our practices ideally combine to propose a visually and musically striking language. Having been immersed in the street arts for twenty years, we develop a frank and generous relationship with the audience by proposing different interactive devices allowing the audience to be included in the performance.
We intend to propose a fun and generous show, a very accessible form with a festive and convivial dynamic. We develop warm characters in direct contact with the audience, delirious showmen, who bring their circus and vocal performances with humor and relaxation.
The project is to offer a 30 – 40 minutes form staging our research into the musicality of juggling.
The show "Beat, tricks and fun" follows the acts Diabolooping and Bounce on da Beat, created by Gaspard and Priam.
THIS SHOW IS CURRENTLY UNDER CREATION, TOUR STARTS FROM SPRING 2023
CLICK HERE TO READ THE PRODUCTION FILE (ENGLISH VERSION) 
With the support of :