Beat, Tricks & Fun (new show 2023)
Spectacle
DUO - Numéro / Performance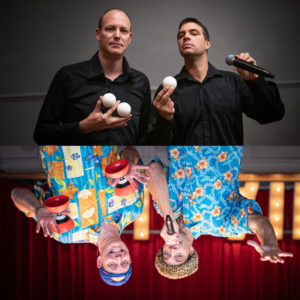 Juggling duo with diabolos, bouncing balls, human beatbox and loopstation
With : Gaspard Herblot and Priam Pierret Duration: 30-45 min.
"Beat, tricks and fun" is a juggling duo with live sound! Gaspard Herblot and Priam Pierret offer a visual concert combining musicality and virtuosity: diabolos, beatbox, bouncing balls, loopstation, devil's stick, body percussion, interactive songs, etc. An explosive and atypical form in which the audience is embroiled in the juggling performance and the musical, rhythmic and singing composition.
With 20 years of stage experience behind them, and in the continuity of the Diabolooping and Bounce on da Beat acts, Gaspard and Priam present performances in which juggling and music are in permanent interaction.
Between human beatbox, body percussion and vocal acrobatics, the soundtracks of the show are made live and with the support of a loopstation (multi-layer sound loop recorder). Juggling performance is in the spotlight with high-flying diabolo (1, 2, 3 diabolos), synchronized choreography, breathtaking vertax (vertical diabolo), passing, and juggling with bouncing balls that gives the rhythm, melody or sound effects.    
THIS SHOW IS IN THE PROCESS OF CREATION AND WILL BE ON TOUR STARTING SPRING 2023
CONSULT THE DIFFUSION FILE HERE
CONSULT THE PRODUCTION FILE HERE
Excerpt from the two shows that inspired the creation of Beats, Tricks & Fun:
Diabolooping:
Bounce on da beat :
Images of the first performances of the number:
Presentation of a work stage of B.T.F.
in front of the students of 1st and 2nd primary of the school Saint François
at L'Espace CAR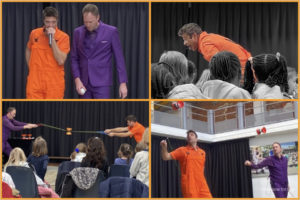 B.T.F. in short version at the STRTFSTVL 2023 (Pays-Bas) :

With support from:
Prochaines Dates
13 May 2023 / Beat, Tricks & Fun – Festival « Les Fourmis Dansent » / Frasnes-lez-Anvaing (BE)


17 May 2023 / Beat, Tricks & Fun – Rock'n brol Factory – Onnezies (BE) / Rock'n brol Factory - Onnezies (BE)


18 May 2023 / Beat, Tricks & Fun – Festival Les Sortilèges – Ath (BE) / Festival Les Sortilèges - Ath (BE)


20 May 2023 / Beat, Tricks & Fun – Rock'n brol Factory – Onnezies (BE) / Rock'n brol Factory - Onnezies (BE)


28 May 2023 / Beat, Tricks & Fun – Tour à Diable – Orchies (FR) / Tour à Diable - Orchies (FR)


10 June 2023 / Beat, Tricks & Fun – (option) Convention Passe La Balle – Bordeaux (FR) / Convention Passe La Balle - Bordeaux (FR)


1 July 2023 / Beat, Tricks & Fun – Week-end au bord de l'eau – La Louvière (BE) / Week-end au bord de l'eau – La Louvière (BE)


1 August 2023 / Beat, Tricks & Fun – (option) STRTPRIJS Arnhem (NL) / STRTPRIJS Arnhem (NL)


4 September 2023 / Beat, Tricks & Fun – PERFORMANCE – Paderborn (DE) / PERFORMANCE – Paderborn (DE)


1 October 2023 / Beat, Tricks & Fun – Festival Les Tailleurs – Ecaussinnes (BE) / Festival Les Tailleurs - Ecaussinnes (BE)


1 October 2023 / Beat, Tricks & Fun – « Place aux enfants » – Jette (BE) / « Place aux enfants » - Jette (BE)


20 October 2023 / Beat, Tricks & Fun – MADN Circus Festival (ES) / MADN Circus Festival (ES)


Dates passées notables
13 January 2022 / Beat, Trix & Fun / Le PACBO - Orchies FR