Beat, Tricks and Fun (création 2023)
Spectacle
Forme Longue
Duo de jonglage aux diabolos, balles rebondissantes, human beatbox et loopstation
Avec : Gaspard Herblot et Priam Pierret
Durée : 30-45 min.
Link towards the english version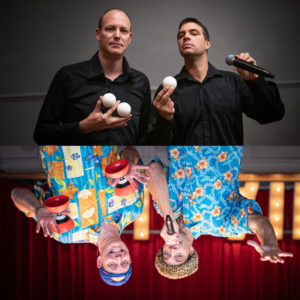 "Beat, tricks and fun" est un duo de jonglerie sonorisé en live !
Gaspard Herblot et Priam Pierret vous proposent un concert visuel alliant musicalité et virtuosité :
diabolos, beatbox, balles rebondissantes, loopstation, bâton du diable, percussions corporelles, chants interactifs, etc.
Une forme explosive et atypique dans laquelle le public est embarqué dans la performance jonglée et la composition musicale, rythmique et chantée.
Forts de leurs 20 ans d'expérience scénique, et dans la continuité des numéros
Diabolooping et Bounce on da Beat, Gaspard et Priam vous présentent des performances dans lesquelles jonglerie et musique sont en interaction permanente.
Entre human beatbox, percussions corporelles et acrobaties vocales, les bandes-son du spectacle sont réalisées en live et avec le soutien d'une loopstation (enregistreur de boucles sonores multi-couches). La performance jonglée est à l'honneur avec du diabolo de haut vol (1, 2, 3 diabolos), des chorégraphies synchronisées, du vertax (diabolo vertical) époustouflant, du passing, et de la jonglerie aux balles rebondissantes qui donne le rythme, la mélodie ou les effets sonores.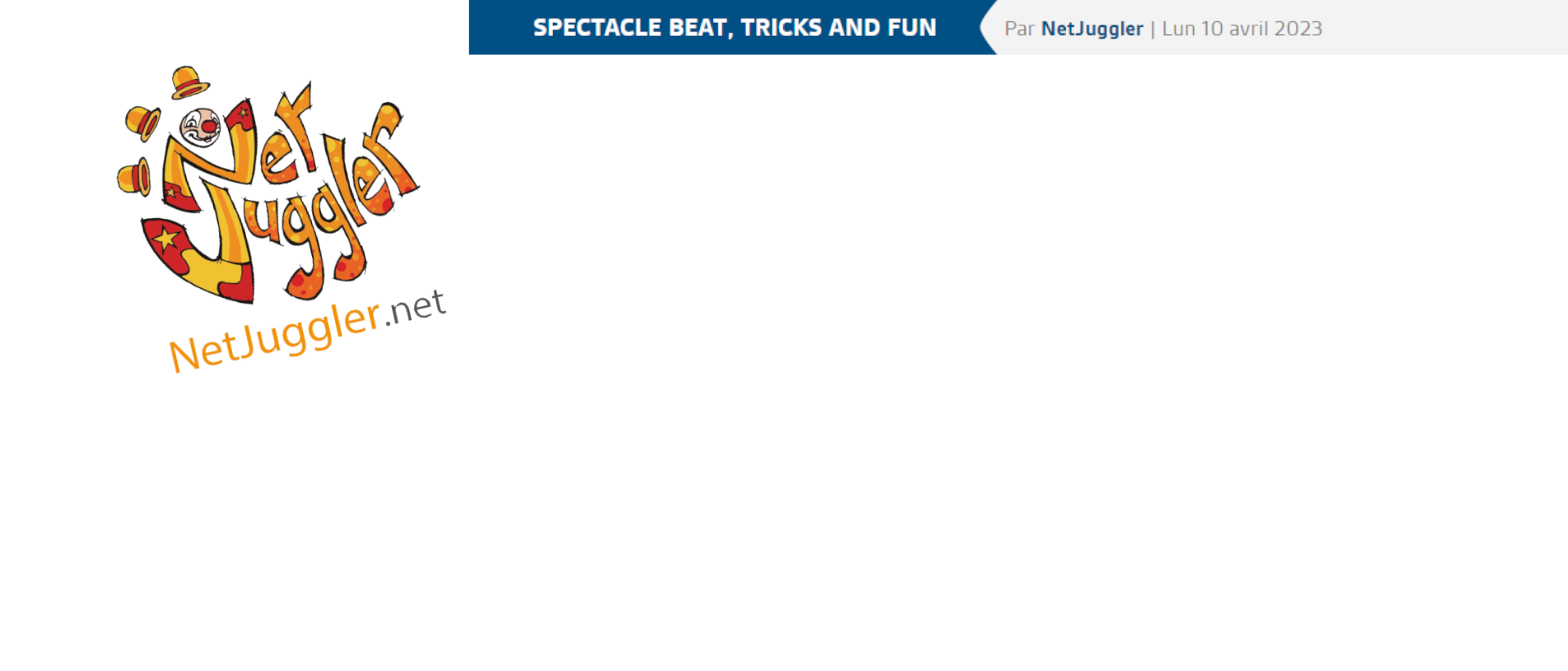 Extrait 1                                                   Extrait 2                                                      Extrait 3
CE SPECTACLE EST EN COURS DE CRÉATION ET SERA EN TOURNÉE À PARTIR DU PRINTEMPS 2023

CONSULTER LE DOSSIER DE DIFFUSION ICI

CONSULTER LE DOSSIER DE PRODUCTION ICI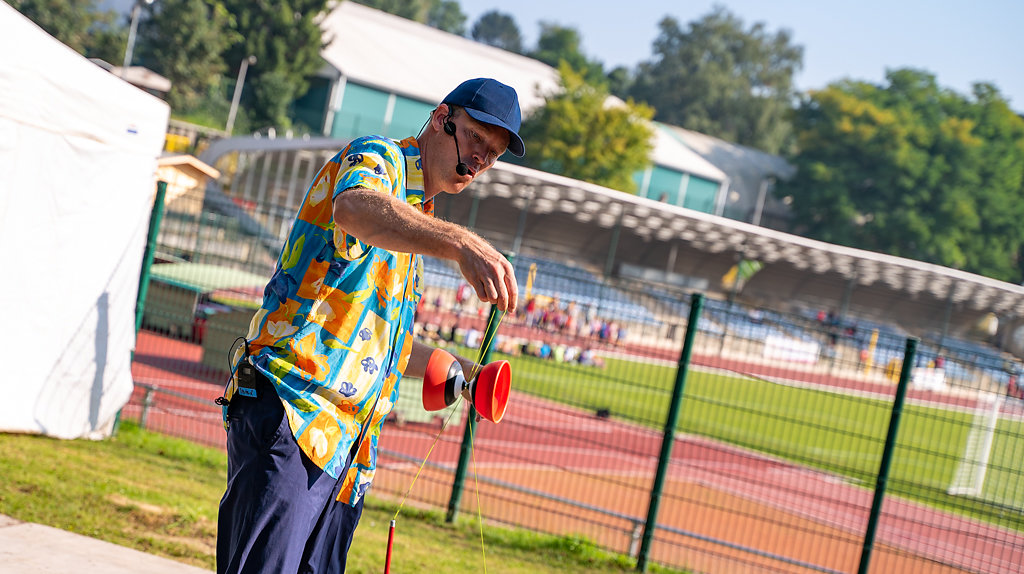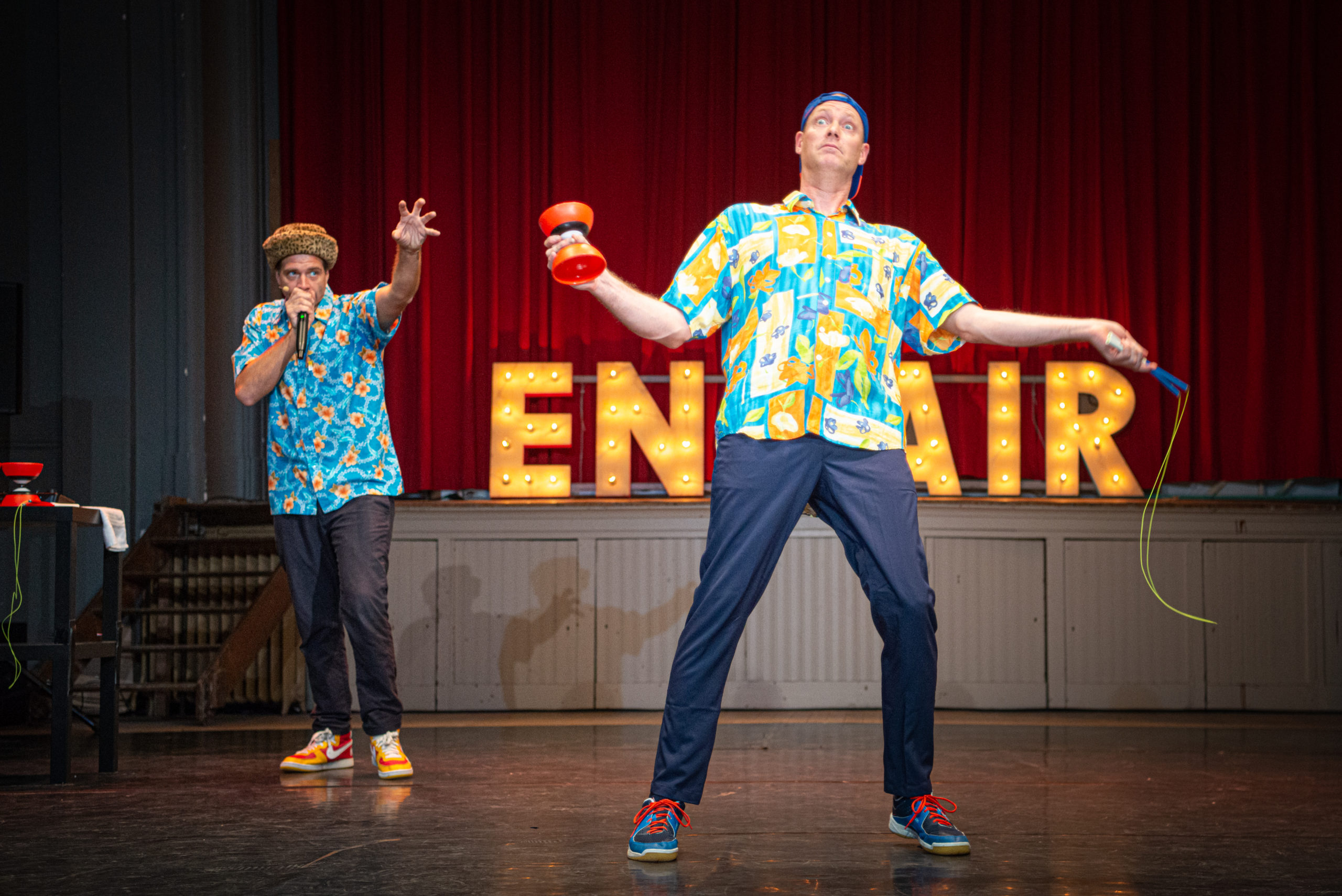 Excerpt from the two shows that inspired the creation of Beats, Tricks & Fun:
        Diabolooping :                                   Bounce on da beat :
   
Images des premières représentations du numéro : 
Présentation d'une étape de travail de B.T.F.
en face des élèves de 1 et 2e primaire de l'école Saint François
à L'Espace CAR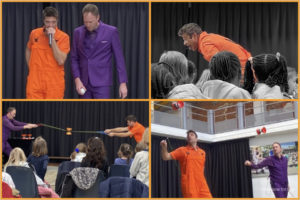 B.T.F. en version courte au STRTFSTVL 2023 (Pays-Bas) :
Avec le soutien de :
Prochaines Dates
1 July 2023 / Week-end au bord de l'eau – La Louvière (BE) / Week-end au bord de l'eau – La Louvière (BE)


30 July 2023 / Festival du Coq à l'Ane – Braine-le-Comte (BE) / Festival du Coq à l'Ane - Braine-le-Comte (BE)


26 August 2023 / Festival du Coq à l'Ane – Braine-le-Comte (BE) / Braine-le-Comte (BE)


9 September 2023 / Doubitchou (convention de jonglerie) / Belfort (FR)


14 September 2023 / Festival Detours / Bruxelles (BE)


30 September 2023 / Festival Les Tailleurs – Ecaussinnes (BE) / Festival Les Tailleurs - Ecaussinnes (BE)


1 October 2023 / « Place aux enfants » – Jette (BE) / « Place aux enfants » - Jette (BE)


20 October 2023 / MADN Circus Festival (ES) / MADN Circus Festival (ES)


Dates passées notables
4 June 2023 / Achterhoekspektakeltoer – Ulft (NL) / Achterhoekspektakeltoer - Ulft (NL)



28 May 2023 / Tour à Diable – Orchies (FR) / Tour à Diable - Orchies (FR)



27 May 2023 / Beat, Tricks & Fun – Tour à Diable – Orchies (FR) / Tour à Diable – Orchies (FR) / Tour à Diable - Orchies (FR)



18 May 2023 / Festival Les Sortilèges – Ath (BE) / Festival Les Sortilèges - Ath (BE)



13 May 2023 / Festival « Les Fourmis Dansent » / Frasnes-lez-Anvaing (BE)



25 September 2021 / Beat, tricks and fun (étape de travail) @ Salle communale de Floreffe / Salle communale de Floreffe / Rue Joseph Piret 7, 75150 Floreffe Belgique